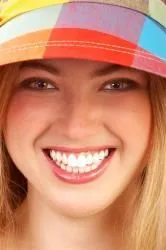 Looking for an easy way to get the bright, white smile you always wanted?
Snap-on Smile® is a patented dental appliance that requires no prepping, no injections, and no adhesives. Its exclusive design is flexible, incredibly strong, and snaps right over a patient's natural teeth. Its retention is completely tooth-borne, so the appliance does not impinge on the gum tissue nor cover the palate, making it look and feel very natural. Snap-On Smile® is easily removable, completely reversible and is an excellent option for patients looking for a non-invasive, affordable approach to restorative and cosmetic dentistry.
Snap-on Smile® is much more than a beautiful set of white teeth. This revolutionary appliance is the ideal solution for solving a wide variety of short- and long-term clinical challenges, as it serves as both a non-invasive restorative option as well as a diagnostic appliance. Applications include using Snap-On Smile® as aesthetic provisionals for implant restorations, as a vehicle for increasing facial height (vertical dimension), as cosmetic removable partial dentures, and even as a long-term smile enhancement.
Snap-on Smile® can last for years and yet is affordable enough to be temporary. It has also proven to be terrific for patients who are in need of but are hesitant to commit to more involved restorative treatment.
To see if Snap-on Smile® is an option for you, call us today for an appointment!