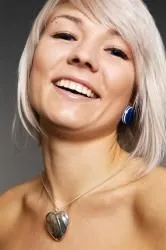 For Port Jefferson cosmetic dentistry, the clinic that people go to for top-quality results is Port Jefferson Dental, PC. We are dedicated to giving you a healthy mouth, but beyond that we want to help you love your smile. From implants to bleaching to tooth restoration, we can make sure your teeth are not only strong, but beautiful!
When you are embarrassed of your smile because of something such as a chipped tooth or discoloration, it can affect your self esteem. Your smile is one of the first things people notice about you, and if you're afraid to show it, it can leave a bad impression. When you come to Port Jefferson Dental, PC, we'll consult with you about your concerns and do a complete examination. We'll discuss treatment options and help you choose the treatment that's right for you.
If you're one of those patients who is apprehensive about going to the dentist, we offer sleep sedation for some of the more complex procedures. You'll feel relaxed the whole time! We also understand that most cosmetic procedures are not covered by dental insurance, and we're glad to work with you on financing options.
If you're interested in Port Jefferson cosmetic dentistry, you'll get the help you need at Port Jefferson Dental, PC. From tooth-colored fillings to bondings, we help people feel confident about their smiles again. Our state-of-the-art amenities and cutting-edge technology ensures your satisfaction. Call today for a consultation appointment.